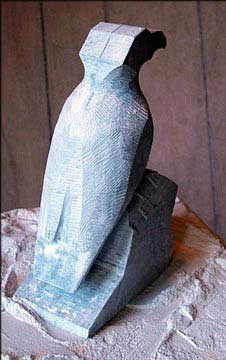 8. When carving the back of the eagle, it is not simply a matter or rounding the back. You must keep in mind that you are carving in two directions at the same time.
To develop the wing shape, file from the shoulder back towards the tip on the wings. I hope that the file marks of the picture on the left will indicate the direction of the shaping of the folded wings on the back of the eagle.
The Vee where the wings fold onto the back, showing the wing tips, are created with the round file.